Once in a while, every eCommerce business owner has this question: to blog or not to blog on his online store website.
In most cases, the answer is yes. Blogging can be beneficial for online retail businesses.
In this article, I'll show why online stores choose to invest in informational content, how to write a blog for eCommerce, and more.
But before we dive in, here are some interesting statistics:
So you can see how important it is to be in front of your audience as much as possible. And having a blog can help you with that and more.
---
Why are blogs important for eCommerce?
There are a couple of reasons why online stores have blogs. The most obvious ones are:
Promoting products and increasing sales.
You can create a blog post with some new additions to your catalog or a list of holiday gift ideas – and send it in the newsletter to your subscribers to attract returning buyers.
Sharing the company news.
If your store has moved to a larger location, won an award, or participates at some big fair – a blog is also a great place to spread the word.
But is there more to it?
Yes, and I've highlighted seven more reasons for eCommerce businesses to have a blog:
Getting more visibility in SERP
Positioning as a topic expert
Educating clients
Increasing user engagement
Showcasing the product(s)
Building a loyal client community
Improving the store's SEO
Let's look at each in a bit more detail.
Increasing brand visibility on the web
If the product or service you're selling is not unique, you most probably have competition. And each of the competitors wants to grab the attention of the potential client.
It becomes increasingly important to be in front of your target audience as much as possible. Especially at the beginning of their shopping journey. The more visible you are, the more often your brand is seen – the more recognizable it becomes. And people tend to buy from companies they've heard about (or, in our case – seen somewhere).
A blog on an eCommerce website can help get more visibility in search engine results. With SEO optimization and good topic research, your posts can reach top results. And by regularly publishing high-quality, informative, and engaging content on your website, you can attract more traffic from search engines and social media.
This can help increase your search engine rankings and drive more organic traffic to your website, ultimately leading to more sales and conversions.
Becoming a topical expert
How well do you know the product that you sell? How well do you understand the needs of your client? This is something you can show in your blog posts.
Publish informative content relevant to your industry and target audience consistently. You'll establish yourself as a thought leader and trusted source of information. Share details, tips, and industry news. This can help to build credibility and trust with your audience.
"Customer trust is the foundation of every successful business and sale"

– Adam Rogers, Shopify
Educating potential and existing clients
Making your blog helpful is also a great way to educate potential and existing clients about your products and services.
Share detailed information, tutorials, and case studies. You'll help your audience better understand your products and how they can benefit from them.
Assist your clients from the beginning to the end: from choosing the right thing to buy to advice on the right exploitation and tips on post-purchase maintenance.
Show that you care for your product and clients even when they are "out of your store."
This also builds trust and can reduce the number of repeated clients' questions (to you or customer support).
Increasing user engagement on the website
Another benefit of having an eCommerce website blog is that it can help to increase user engagement.
Informative and inspirational posts can encourage your audience to spend more time on your website and interact with your content. This can help to keep users on your store's website for longer, which can ultimately lead to more sales and conversions.
Showing how the product(s) can solve user's problems
This one is especially good for startups. If your product is the first to solve certain issues people have and they search for "How to do this or that," – a blog is a great way to get found.
Your brand and product may be unknown, but people know they want to find the solution to their issue. And if your post with suggested solutions (including your product) is in the top results – a serious interest in your offer is the least you can hope for.
Building a loyal client community
A blog on an eCommerce website can help to build a loyal client community. By regularly publishing high-quality content and engaging with your audience through comments and social media, you can foster a sense of community and belonging among your customers.
This can help to build loyalty and trust with your audience. And it will not only lead to regular sales. With a strong community, you'll get more brand awareness and customers through personal recommendations and word-of-mouth marketing.
Better SEO optimization
Last but not least – a blog can help your online store improve its SEO performance.
It's not easy for eCommerce websites to get natural backlinks (links for other web pages). And if you create interesting content that will capture attention and people would want to share it online – it's a win.
Another advantage is that you can improve your website's internal linking and point to important categories and products more.
The combination of these two tactics will have a good impact on the overall store performance in SERP.
What to consider before starting an eCommerce website blog
Before you start the blog on your store's website, you should get prepared. And that includes:
1. Get to know your CMS and its blog features
Your eCommerce website can be built on WordPress, Shopify, Wix, and other website builders or using a custom CMS. Each of the options has its possibilities and limitations.
Depending on how you imagine your blog post appearance and topics, you might need to install additional third-party apps and plugins or seek for developer's help.
2. Do keyword research for blog topics
Evergreen content can attract constant organic traffic to your website. To create it, first, you need to know what information people are searching for.
You don't need pricy tools to perform keyword research. Start with brainstorming questions potential customers might have and review inquiries you've already got from existing clients. You can then check forums, Facebook groups, Quora, and Reddit to see what people ask about your product(s).
Also, check what your competitors are writing about.
Then you can turn to keyword research tools, which can be free or inexpensive.
Make a list of the questions and topics you find, and prioritize it (by search volume, importance, or your logic).
3. Decide who's going to work on the blog content
Writing a blog is time-consuming. If you have time, writing skills, and product knowledge, you can do it yourself. But more often than not, eCommerce business owners hire a freelance writer to delegate this work.
It's important to choose a good writer. If you're not working with an SEO specialist, ideally – choose a writer with some SEO knowledge, so that blog posts have a better chance of ranking.
Second, you need to think about how much expertise your blog requires. Specialized writers are usually more expensive but require less control.
You can choose a generalist, less expensive copywriter. But if the topic you want to write about requires technical or deeper knowledge, be ready to do a lot of proofreading, revisions, and editing (or hire someone else to do that for you).
3. How will people find the blog on your website?
Think about adding a link to the blog in the header and/or in the footer menu.
If a blog post is related to a category or a product, it might be a good idea to feature it on that category/product page.
Once again, check with your current website CMS for how you can incorporate blog links into your store's website structure and design.
4. Blog performance analysis
You don't want to invest in something and not track its performance, do you? So you'll need to decide on how you'll measure how successful your blog is and if your efforts are bringing any results.
Some KPIs you might consider are:
pageviews,
time spent on each page,
and organic traffic.
Pageviews and time the reader stays on your posts will tell you about the content quality. Is it interesting? Do people find what they are looking for? Are they reading more than one blog post while on your store website?
Organic traffic should be growing and bringing new potential customers. If you're only starting your blog, it's possible that it'll take time to rank (might even need several months). So don't think that starting a blog was a mistake if you don't see organic traffic to it right after publishing.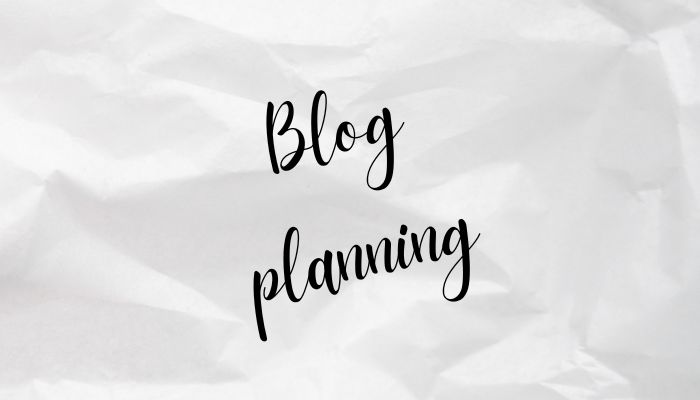 Need help with your store's blog?
From topics to post structure, I can create a content strategy and briefs for your informative and fully-optimized posts.
What to write about? eCommerce blog topics
It might be tricky to come up with blog post ideas at first. So I'll list some of the most popular topics for eCommerce businesses.
And let's take a coffee online store as an example.
Buyers guides
How many people know how to choose coffee? Do many people know the difference between coffee from Costa Rica and Panama? Buyer guides are where you let your expertise shine. You educate your buyers, help them make the right choice – and get happy customers if they buy!
Product reviews and comparisons
Product reviews are concentrated on one product and comparisons – compare two products side by side (sometimes even three or more). This content targets buyers that are further in their buying journey. They've already selected some products and need to see that one detail (or a few) to make a buying decision.
How-to informational posts
This type of blog post typically covers post-purchase usage of a product, for example, How many spoons of coffee your client needs for the best taste or How to make Turkish coffee the right way.
Best lists
Now, this is the place to showcase the best products you have for some occasion or customer type. How about 10 best coffee bean brands for a beginner coffee-lover or Top-5 coffee bean brands for those who like it fruity?
New product announcements
Got a new supplier? Are you the first to sell those long-awaited coffee beans? Don't forget to blog about it, too, and share.
Contests
People love contests. And winning. Make a contest announcement in your blog, feature the prize, and share the post in social media and your newsletter.
Company news
Are you changing locations, collaborating with another brand, participating in a fair, or getting an award? Your store's blog is a great place to share your excitement and results.
How to write a blog for an eCommerce website
The overall process is not that different from any other blog writing. If you're planning to create posts that attract organic visitors, follow these general guidelines:
Do keyword research
Select topics not only by search volume but also by how related they are to your product or products. Don't get tempted to select only the keywords many people are searching for, but they are not your target audience. Otherwise, you'll spend time and money on writing and will get traffic with no sales.
Make a list of topics
After you've done your research, make a list of selected topics you'll write each month to have a content plan.
Prioritize your blog topics list
Which topics are most important that you want to cover as soon as possible? If there's a seasonality factor – what topics will be important in the upcoming months?
Analyze the SERP for each topic
Who are you competing with? How long and detailed is their content? What do they cover, is there anything you can do better? Note any ideas you have.
Plan your post structure
It's important to structure your posts. Headings and subheadings indicate what each post section covers, improve readability and break up sheets of text.
Write the post
This is pretty straightforward. Think about who the post is targeting, what buying stage they are in, and what the ideal result of the blog post should be.
Blog regularly
It doesn't matter if you're planning on publishing your posts every day or once a week. You can choose the frequency. And consistency is the key to regular crawls and more love from search engines.
More tips on blogging for eCommerce
Have a content plan
It's easier to post regularly if you know what you'll write about. A content plan will serve as a base of your content strategy, but it's flexible, and you'll still be able to edit it when needed.
Find your voice and language
Doesn't matter if it's you who writes the posts or your copywriter. You need to be clear on how you convey your messages in both language and style. Whether you're going to use lots of terminologies and be bold or be more poetic and gentle – depends on who your target audience is as well as your brand, design, values, and vision.
Prepare holiday content in advance
Keep in mind that people tend to start holiday shopping way in advance. So if you plan to write and send out your Christmas gift idea guide in mid-December, you'll be late to the party.
Promote content via different channels
Don't be shy to promote your content. Use your social media accounts and newsletter to send out those articles.
Optimize blog content for conversions
If your post features your product or products, do your best so that the reader can easily access its page: add links either in the text or in a sidebar with a "Featured products" block. Make sure the photos you use in the posts are of good quality too.
Create reusable URLs for blog posts
This a small but helpful tip: when creating content with a list of items like "5 Best Ground Coffees" or "Best Coffee beans in 2022", don't use numbers in the URL. You might want to add a couple more coffee brands to the list and update it for the next year. If your URL slug will be "/best-ground-coffees" and "best-coffee-beans," you'll avoid the need to make redirects or deal with duplicate content.
Analyze your content performance
If your posts are meant to get more visitors from organic search, you should keep an eye on their performance. From rankings and how users find your blog posts (with what queries) to how they engage with your content. Do they read it, go to other pages, and so on?
Update your posts
Don't leave your posts forgotten. If there's new information you can add to the evergreen content, or you've noticed in Google Search Console some questions and queries you can add answers to – go ahead and update your article.
Blogging for eCommerce: FAQ
Why do online stores have blogs?
The top reasons why online stores have blogs are to gain more visibility in organic search, position themselves as product experts and gain customers' trust. These and other reasons help brands grow online.
Should eCommerce sites have blogs?
A blog on an eCommerce site is a good practice but not obligatory. It's important to keep in mind that, to increase a store's traffic and sales, a blog requires investments and attention.
How long should an eCommerce blog be?
There is no exact number of how long the content of an eCommerce blog should be. The rule of thumb is that the blog post should be as long as needed to provide value and a complete answer to the reader's request.
Do blogs increase sales?
Yes, a blog on an eCommerce website can increase sales. Blogs can increase brand visibility and awareness, help build trust, and improve rankings of category and product pages. All of that can lead to more sales.