Website content updates are often overlooked and underrated by business owners (and sometimes even SEOs).
Caught up in creating new posts and pages, they forget to check the performance of the existing ones.
And that could be the reason why the whole website is underperforming.
So no matter what kind of website you own, read on to find out how to update your website content, what to pay attention to, and other tips.
What is website content?
First thing first, let's decide on what we consider website content in this article.
We'll consider website content as information in any form and format visible to the visitors of your website.
This includes (but is not limited to):
Meta-titles and meta-descriptions
Headings
Texts on any page
Links (internal and external)
Images
PDF files
Video files
Website design
Why should you update website content
If you make changes to your website, it means that you care about your business and your online visitors. This is how you do it:
Keep information up-to-date. It may be your old contact information, product features that are no longer there, or old statistical data in an article.
Improve content quality. Nobody wants to read thin or misleading content. If you're serious about your business, you should be serious about what you put on your website.
Improve SEO performance. You might have pages that have a good potential to drive more organic traffic. Even a slight content refresh might do wonders.
Redesign your website. This is quite a big update, but it may have a great positive impact if done right. You can expect a better user experience and an increase in conversion rates.
How to update website content?
There is no one way you should do it, so here are the general content update ideas you can use (adapt them to your website) :
1. Do a website audit
Unless you've done it recently, a website audit is the first thing you should do before changing any content.
It's a very broad term, that includes SEO audit (on-page, technical, off-page), UX/UI audit, and CRO audit, among other things. The goal is to find weak elements of your website that drag it down, make it underperform, or create inconveniences for the site visitors.
2. Deal with non-performing pages
In terms of SEO, it's not good if your website has many pages with 0 clicks and low impressions or pages that were found by a Google bot and not indexed. It may be one of the reasons that your content is not ranking well.
To find such pages, go to your Google Search Console:
In the Performance report and set the "Last 12 months" timeframe. Open pages, export all data for convenience, and filter those without clicks. Check which ones have low impressions (the definition of "low" is subjective and is for you to decide on).

To find pages that were not indexed by Google, go to Indexing >> Pages and check the report. Pages under "Crawled – currently not indexed" and "Discovered – currently not indexed" are the ones we're looking for. And you can check other indexing issues here as well.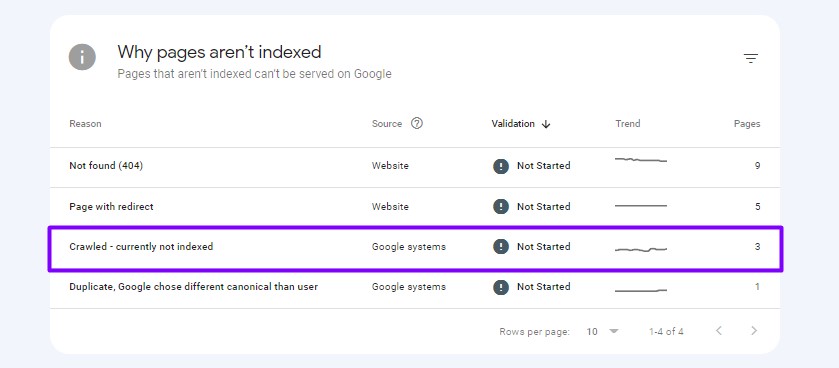 If you've performed an SEO audit before this step, you most probably understand where the problem is with these pages.
Depending on what you find, there are various options for how to deal with non-performing content:
delete;
merge and redirect;
rewrite completely;
make a considerable update;
block from crawling and indexing in robots.txt
3. Work on underperforming content
By underperforming content, I mean pages with a mid to high number of impressions and some clicks – but they have not reached their full potential.
If you have Ahrefs, SE ranking, or any similar tool – check what pages are in positions 11-20 for the main keyword. Alternatively, you can use Google Search Console, which will take more time.
Usually, it's not difficult to give those a little push and lead them to a position above 10.
Here are some of the updates you can do:
make sure the content is aligned with search intent;
update the introduction;
fact-check and add new information to the copy;
update or add new media (images and video)
check competition and find ideas to implement on your page
4. Refresh performing pages
This is the easiest of updates. If your content is well written and ranks in the top-3 positions, you don't need to work much on it. Some of the refactoring ideas:
update the year (i.e. from 2022 to 2023). Pay attention to what the year corresponds to, and if it's not related to statistical data or an event;
fact-check the information;
tweak meta-title and meta-description to see if that increases the CTR
update media (images and video) if necessary
5. Optimize for low-hanging fruits
Low-hanging fruits are easy wins for your website, which you can get with little update effort.
Check if you can:
optimize your content for Featured snippets (for keywords in the top-10 results),
add FAQs to answer specific PAA (People Also Ask) questions,
make your meta-titles and descriptions more "attractive",
add Schema markup, and more
6. Improve internal linking
Internal linking can have a strong impact on content performance. If you relied solely on the "Related articles" widget, it's time to update your internal linking strategy.
If the content is well-optimized and aligned with search intent, but still underperforming, there are two things to check first:
it's not well interlinked with supporting or related articles,
or you don't have enough supporting content
In the first case, find pages that are topically related to the post you want to update and check if they have links to it in the main content.
You can also analyze anchor texts to see if you're linking naturally and using not only exact match keywords.
And if you have no pages to link from, consider adding them to your content plan.
7. Include content updates in your content strategy
No matter what kind of website you have: small or big, informational or eCommerce store with a blog – content update is the best practice for all.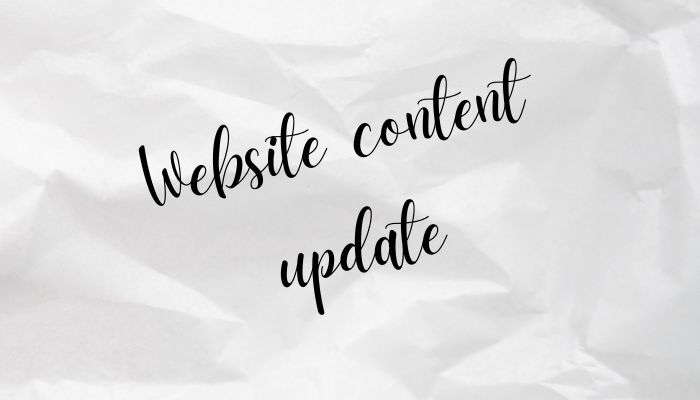 Need help with your content update?
From SEO audit to internal linking, I can analyze your website and prepare a data-driven content update plan.
How often should you update website content?
You should update your website content each time some important information has changed or there was a noticeable drop in traffic due to competitors' activities, changes in SERP and search intent, or Google updates.
Also, you should plan regular content audits during the year (every 3-6 months, for example) and make website content updates based on the results.
Don't forget to check if some pages were not updated for more than a year.
One more tip for content updates
While it's relatively easy to find what content to update and why updated, it's also important to prioritize your efforts. For example, you could:
tackle important content from a business POV (that drives or should drive conversions and traffic),
then work on the content that potentially drags your website performance down in general,
after that, check low-hanging fruits: articles ranking in positions 4-10 and 11-20,
and then review all that's left.
I hope these tips and advice were helpful. While I concentrated on website content updates from SEO perspective, it's as much important to work on updating website design and improving user experience and conversion rate optimization.
SEO alone can get you more traffic. But traffic doesn't guarantee more conversions if other website elements are not user-friendly.
And if you're not sure how to update website content yourself, reach out to me for consultation and assistance.